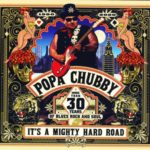 Popa Chubby, It's a Mighty Hard Road CD
Released December 2019
A new Popa Chubby CD has graced my CD player! Featuring 15 songs this man is BIG – in stature as well as in sound. Was amazed to read he laid down most of these tracks himself (yes, I do read the literature on the CD casing and in the one-sheet included with most CDs I receive) – lead guitar, drums, bass, keys, harmonica and vocals including background vocals. Theodore Horowitz (aka Popa Chubby) also penned each of the tunes featured on this CD.
Meeting Teddy in person, you know that he lives and breathes his music. He tells us his life was saved from the hard-core NY streets, once he found his guitar and his voice. Thirty years later he's still offering us his fine sounds.
Popa Chubby's lyrics are about everyday happenings. The everyday things everyone goes through. He doesn't mince words, he tells it like it is. For example, cut 2 the signature song – It's a Mighty Hard Road is about all the things we do to make it in this life, like kissing butt. You can download this cut for free on his website: http://popachubby.com.
Buyer Beware, cut #3, speaks on how we often have to do our due diligence when it comes to buying things. He closes the tune with, "I'll give you $50 for that guitar".
My favorite song from this new CD is cut 11, More Time Making Love – the chorus is catchy and I found myself humming it and whispering the words after I'd finished listening to the CD. The lyrics tell us we never know what tomorrow will hold, so the only way to do it is to be spending time making love. You can take that literally or figuratively.
I was also taken with Lost Again (cut 13) which is a slow shuffle featuring Popa's hypnotic voice. The guitar picking is precise and soft, the drums a simple brush stroke.
At first I thought cut 14 was the Etta James tune I'd Rather Go Blind, but in fact is an original by Popa Chubby called I'd Rather Be Blind. The song is a great dance tune with the lyrics lamenting how he'd rather be blind than to see her leave.
Cut 15, Kiss, features harmonica playing by Popa Chubby. He does a fine job of it! You uses a double overlay of his own voice and completes the tune with some solo harmonica.
This CD offers many great tunes that I know will be favorites of many of his fans, including me. It will be interesting to see how he performs some of these tunes live, which I guess means I will need to seek out a live show where Popa Chubby will be performing in 2020. He's currently touring Europe and is a true travelling musician who spends much of his time on the road. Pre-order your own copy on his website (http://popachubby.com) and follow him for his concert dates on his Facebook page: https://www.facebook.com/popachubbyband/.
Cheers to the Blues!
Cora Price, Fraser Valley Blues Society