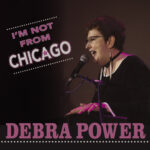 Debra Power
I'm Not From Chicago CD
Released Feb. 16, 2022
Debra Power, the award winning song writer, vocalist and keyboardist from Calgary, has spent her COVID time well. She's just released her 3rd CD, I'm Not From Chicago, a stellar collection of boogie woogie tunes you are sure to enjoy. Debra Power has been recognized as a talented musician and composer, receiving numerous awards and earning the title of an IBC semi-finalist in Memphis, twice.
This collection of 12 original tunes include collaborations with two well-known musicians, Harpdog Brown & Keeshea Pratt. Harpdog's harmonica contribution can be heard on three tracks, including the title song, I'm Not From Chicago. This could very well be the last work of Harpdog Brown, as he passed suddenly in January 2022.
I'm Not From Chicago, begins with a catchy guitar riff. A fast moving tune tells us the story of Debra's love of the blue and her Mother's influence to sing strong and loud and spread the news! Throughout the song, you can clearly hear the Dog's signature harp playing.
The first single released earlier this year, features Keeshea Pratt on vocals and is titled "What Colour is Love". An inspirational and statement song, asks us to look beyond skin colour and remember the human connection – "you are not a colour and nor am I". Beautiful piano and amazing harmonies!
Haunting piano introduces the cut, The Last Time I Saw Memphis. Visitors to Memphis for the IBCs can likely relate to the lyrics and as the story unfolds we get an understanding of why Debra no longer drinks gin. There's a special something in this song (a Harpdog chuckle) that adds a sweet touch and memory (if you ever got to see the Dog live). As the song progressed, I envisioned this as a lead-in tune for a tv or movie production.
The CD includes personal stories (Debra Marie), love songs (Slow Love), songs you can't help dancing to (Magnificent Heart, Hardwired for the Blues, New Shade of Blue). This feel-good release demonstrates Debra's full spectrum of talent.
Pick up your own copy on Bandcamp, and the other digital retailers.
More about Debra Power on her website & for links to purchase: http://debrapower.com