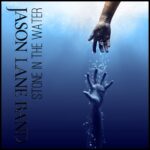 Released: June 2022
Sometime in 2019 a new band began to form and then hit the ground running. Headed by a brother (Jason) & sister (Chantal) team, the Jason Lane Band brings you Blues Rock with strong guitar riffs (Jason & Alex Ritchie), excellent female vocals (Chantal Sayers), backed by Mark Vescovi on Bass & Robbie Cooper on the tubs.
Their latest EP, Stone In the Water, is their 3rd release and includes six (6) new songs to enjoy. I'm calling this one their Love EP release as there are 4 cuts where the lyrics talk about different aspects of love.
The first cut, Choose Another Lover, begins with a catchy strong guitar and bass drum combo. This is a rockin' dancin' tune demonstrating the bands ability to meld together through harmonies, lyrics and good ol' fashion catchy guitar riffs. The premise of this song is about the issues faced when two people interact and one is in love, but the other is not. Best to choose another lover before heartbreak ensues.
Love Will Break Your Heart is a slower number, which starts with a haunting tempo thanks to a two guitar combo. A perfect slow dance with or without a partner. The message is clear, love can break your heart but only if you let it.
Each of the songs on this EP provide excellent lyric composition and music true to this band's own style. If you like music that makes you move, this is for you! You can hear the influences of other blues rock artists and bands but the Jason Lane Band throws in their own tempo changes, dual guitar play, percussion and bass leads, vocals, harmonies and backup vocals that are smooth and sweet.
The Jason Lane Band will be in the Vancouver music scene for a long time coming if they continue with this excellent work! Be sure to grab your own copy of the CD and send them some love, attend a show and let them know you've seen this review. Also check out their other two EPs.
Website, https://www.jasonlaneband.com/
Facebook: https://www.facebook.com/jasonlaneband
Instagram: https://www.instagram.com/jasonlaneband/