Monthly Friday Night Blues Jam
Friday Night Blues Jams feature local artists and bands, with rotating hosts.
Doors 7 pm, Host Band 7:30 pm, jamming approximately 8 pm – 11 pm
Location: Eagles Hall, 33868 Essendene Ave., Abbotsford (beside Paliotti's). 
Note: Cash Only Venue.
Cover:  $5
Join us for live music, good times, dancing and to get your groove on. A Great Way to end your week.
Most music is the standard 12 bar blues music but there are variations. Sign-up sheet at front table and please introduce yourself to the host.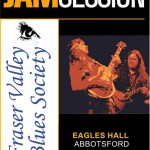 We provide the drum kit (bring your own sticks), amps, monitors, mics and PA, most times a keyboard. You bring your own instrument (except drums & keys).
Audience is welcome, bring friends and family! The large wooden dance floor is generally packed.
Shouldn't need rules but guidelines are helpful. Here's some great ones: http://www.superiormusic.com/page129.htm
Pages 2 (vocalists) & page 3 (guitars) give some good pointers.
Disclaimer: In no way do we condone or support any of the points this person is making. It is solely for information purposes, to guide you on how to participate in a musical jam session.
2022 Jam Sessions: (2nd Friday unless there's a holiday)
March 11 – host Don & Andi Jones
April 8 – host TBA
May 13 – host Jon Gale (Gale Force Band)
June 10 – host Steve Ranta
Note: No Jam in July & August (It's Festival Time, baby!)
Check out our Live Music Shows
Jam Videos:
James Thorhaug Band featuring James on guitar, Kathryn on keys, Kerry on drums, Paul on bass. Thanks to Pete Cordalis for the great sound and recording!
Oct. 8, 2021 Jam featuring Dean on guitar, Lisa Dunn on vocals, Kathryn on keys, Ivan on drum,
March 13, 2020 Jam. Thank you Pete Cordalis for the video and bringing great sound to our jams.
Natalie Giesbrecht – Feelin Alright, Oct 8, 2021 jam. Thanks Pete Cordalis for the video & the sound quality.
First round of Jamming with host band & Art P, our sound guy, Sept. 18, 2015
Round 5 (I think) featuring Andi on vocals, Don on guitar, Kathryn on keys, Doug on Sax & Jon on Drums (I hope)
Last set played on Sept. 18, 2015 Jam
Listen to the January 2015 session (partial).

Audio of 2 sets of the Jan. 2015 Jam Session

Short Interview @ the Jam Session by Go! Fraser Valley (Shaw)