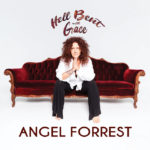 Angel Forrest, Hell Bent with Grace CD Review
Released Nov. 1, 2019
Angel Forrest, a firecracker vocalist who burns up her stage and has her audiences begging for more, has just released her 11th CD – Hell Bent with Grace. Accompanied by and co-produced by Denis Columbus and Ricky Paquette, they provide enticing guitar play throughout the CD.
Angel's vocals keep getting stronger with each release she does. Her growl and purr, give no indication that she stands at 5 foot nothing. Known for performing in bare feet, she commands her stage well and most who see her become intrigued by her personality and finesse. Her many awards are a testament to her fan love.
This new CD features 11 songs with a good mix of different styles featuring sexy, sassy, tranquil, rocky, country and folky.
Bane Lorraine, cut #11, starts off mellow and then the punch comes. Love the instrumentation component heard at the 2 minute mark. The song continues and goes into an eerie note that had me listening closely to what was being said, then picks up into rocky blues vocals featuring Angel's voice at it's best.
The Blame Game takes on the topic of mental health and relationships. With a country flair, the song offers a great beat and features excellent guitar playing by Denis & Ricky.
Menie the Monster launches the CD. This song has a cool rhythm and the lyrics lament about being female and losing your sexy through the thrills of menopause. Angel brings home the woes of reaching middle age as a woman and aging.
Indian Moon begins with a combo of acoustic and slide guitar with Angel's voice joining in to create a wonderfully flowing song.
Ain't No Doubt starts with a 50's sound intro, and moves into a tune that is a great bass and drum beat that compliments Angel's voice and lyrics. A found my body just moved with this tune. It's one of those songs where you can choose to dance slow or fast.
This CD features more slower tempo songs then a traditional Angel CD, but I loved the sweet vocals it offers and the instrumentation is fantastic, as usual. A very enjoyable listen. You can get your copy from the website: https://www.angelforrest.ca/music and I highly recommend following Angel's tour dates and other happenings through her Facebook page: https://www.facebook.com/angelforrest2/