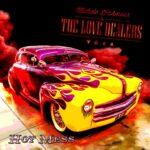 Michele D'Amour & the Love Dealers, "Hot Mess"
Released October 2022
Michele D'Amour & the Love Dealers have just released their latest album, Hot Mess. An 11 track CD featuring Michele's sultry grit vocals, backed by Richard Newman on lead guitar (the newest member), Patrick McDanel on bass & backing vocals, Carl Martin (a Canadian!) on the tubs and Noel Barnes on saxophone and vocals. Three tracks include piano thanks to Tom Worrell and organ by Philip Woo.
Ten tracks of new originals penned by Michele ("Helping Hand" by Newman), showcasing D'Amour's natural storyteller talents. Track 2, the only cover, "I Walk on Guilded Splinters", is a Dr. John tune. I personally love this version!
D'Amour shows her fun and whimsical side in the lyrics and titles of this CD. Songs like "A Nurse with a Purse" & "Your Dachshund Won't Leave Me Alone", are sure to rise a chuckle and pique curiosity to listen close to the lyrics to hear the inspiration and story behind the tune. I'd say Michele has been taking lessons from Marcia Ball.
Track 3, "Plum Crazy" took me back to the fun times of the Blondie era. A rocking blues tune all car buffs will be able to relate to. Blues lovers will be drawn to the amazing saxophone, driving guitar and strong drum line.
"Devil in the Dark" features a wonderful prominent bass line, sexy guitar and sax solos that get you grooving and moving.
Reality of the west coast fire season these past years is highlighted in "Cold Red Sun". A mournful tune set to a Rhumba beat. Michele D'Amour and The Love Dealers are tight in their presentation with solos highlighting individual talents well. A great addition to any Blues Library to bring the mood up, the mind open and the good times rolling. Visit their website: https://micheledamourandthelovedealers.com/hot-mess-2022
to get your copy and explore this band further.