Fraser Valley Blues Society
Welcome! Thanks for visiting. We've got some great music happening for you. The FVBS offers live music in the Fraser Valley, including the communities of Abbotsford, Chilliwack, Hope, Agassiz, Mission, BC featuring bands, concerts and a monthly blues jam (Sept – June).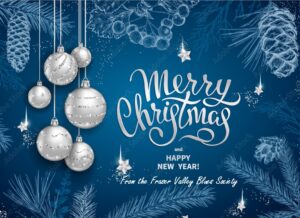 Best of the holiday season to everyone. We hope your 2023 has been prosperous and included live music! Give the best gift ever – music – recorded, live, instruments to make music, etc. Stretch yourself to be creative and have fun doing it! Maybe give a donation to a local music related entity, school or consider giving to a band that is struggling, and do it in the name of someone you love. Most of us have too much "stuff" and we don't need more socks, shirts, things.
We are attending the International Blues Challenge in January where we will show off a youth act – James Vickers from Nanaimo, a duo from Mission – Strong Bow & Wry featuring Jennie Bice & Tony O'Hara, and our band entry, the Bad Pennies from Vancouver (Jim, Mark & Jeff).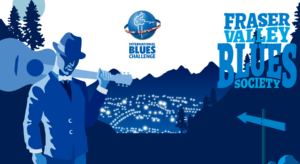 Sorry but we have no ticketed events for December and January.
We will be reconvening on Saturday, Feb. 24 with the Gale Force Blues Band. Tickets will be available in January 2024.
---
Friday, Dec. 8 with Brent Lawrence hosting (click for more info)
Friday, Jan. 12 – Paul Hendriks hosting
---
---
Past Shows:
Who is the Fraser Valley Blues Society?
We are a group of Music Lovers who felt a foundation to promote, support, educate and enjoy live blues music in the Fraser Valley of British Columbia was overdue.
Since receiving our Charter as a Non Profit, this Society has been formed with the following objectives:
To promote and perpetuate Blues Music, and like music types in the Fraser Valley area.
To present live Blues performances at various venues to establish our region as a Blues destination.  The performers range from International acts to local musicians.
To give support to up and coming musicians and provide an opportunity to further their aspirations.
To inform and educate members of our related communities to appreciate live music.
Please help preserve and promote live music close to home by joining today.
Volunteers, musicians and other blues lovers help us fulfill our mandate.  We can't do it alone! Please contact us if you would like to contribute via a membership, sponsorship or volunteering at a venue.