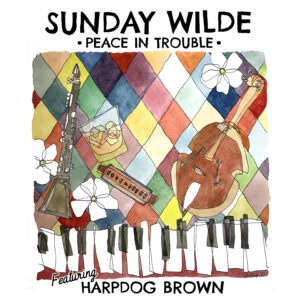 Sunday Wilde, Peace In Trouble
Release Date: March 14, 2021

It's finally here! Sunday Wilde has been ramping it up this past year as she composes, plays, records, edits and now releases her next CD, Peace in Trouble. Featuring Sunday on keys and vocals, the lament is no drums, no guitar; simply a voice, piano, bass & musical colour (Harpdog Brown is featured blowing his harmonica on five tracks). To help her along on clarinet is Mac Givens, Mike Carson on upright bass, Lex Riley on trombone and Greg Schultz brought it all together in the art of engineering. The CD cover is awesome as it features work by Seattle artist Joel Astley. This album binds together artists from Ontario, British Columbia and Washington State. Nice work!
This 9th CD release features eleven tracks that addresses the woes of life from the perspective of a female in today's changing landscape of love, worry, peace, life, advice and friendships. Sunday is no stranger to the blues, she's had a few years of rough patches and her compositions speak of her experiences and Trouble (Track 1 – Harpdog's wonderful harp adds to the impact of this song). Pay attention to the lyrics and you'll fall in love with this unique, talented artist who lays it all on the line for her audience.
Authentic in her own style, Sunday Wilde, weaves us back to a time when vocals and the piano took center stage. You could easily be hanging at a speakeasy (Sunday's living room is where they recorded the CD) in the 30's listening to this music. Simplified arrangements, easy to dance to, listen to and make people stop and ask who is playing. In my minds eye, as I listened to the CD, I could see swing dancers, people leaning against the bar, intimate tables scattered around with people enjoying one of the things that bind is more than anything else – music.
This past year has been hard for all artists, but in particular for musicians and bands. You can support this artist by purchasing your own copy of her new CD on her website: http://SundayWilde.com.
You can also drop her a message on Facebook, through her website or email. Let her know your listening! Nominate her for an award (she's been previously nominated for: Best Blues Album -Independent Music Awards, Best Blues Song – IMA, and was a finalist in the International Songwriters Competition (ISC) for Blues). Be sure to follow her on Social Media, so you'll be aware of what she has up-and-coming. She's been busy lately and I'm sure there are going to be many more great things in the wings waiting for her to participate in, collaborate with and be a part of.
Music makes the heart and mind happy! Spread the news.
Cora Price, Boogety Shoe Blues Reviews & Fraser Valley Blues Society