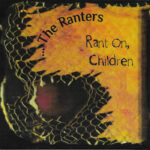 The Ranters
Rant On, Children
Released Oct. 1, 2020
When touring becomes impossible, release a new CD and give the people something to hear, agree with and enjoy! Rockland Moran, often seen as a solo artist playing in the Fraser Valley area, has combined efforts with his wife, Gillian Wale, and formed "The Ranters". As the story goes, they had intended to tour the USA in 2020, but the pandemic stayed those plans. Alternatively, they took to the studio and recorded this wonderful CD – Rant On, Children.
With ten songs gracing the disc and following the meaning behind the band's name (check the website or look it up), the lyrics provide "food for thought" by bringing to light many of the current plights society faces. Similar to the lament of the 60's, their songs push against religious beliefs and support the premise that we need to look within.
The CD offers a good mix of blues and folk, including the use of non-traditional instrumentation such as mandolin, mandola, mando-slide, guitar, accordion and of course guitar, harmonica and horns. An array of artists contributed to the production, and I commend them all.
A bit about the tunes…..
The first cut, Louis Sam, is my favorite. A tune using a mix of non-traditional instruments, the song draws you in. A shared collaboration in writing between Moran & DiGregorio, the lyrics tell the story of a young man from the Nooksack region, gone wrong. Moran's story telling takes us along the journey and the injustices done.
Tashme, is an instrumental number that is unique and relaxing, with undertones of Eastern music styles.
Sneakin' Hunch reminds me of past Moran compositions, including the harmonica accompaniment. Gillian vocals blend well with Rockland's voice.
When the Rivers Run Dry includes a music video (https://youtu.be/hvAwPiGd_Yo) and addresses the real issues of industrialization, oil production, pollution and all things that are hurting our water supply. A very strong message.
To explore more about the CD and to purchase for yourself, visit their website:
http://eldivino.com/
https://theranters1.bandcamp.com/releases
Please support our Canadian artists!
Reviewed by:
Cora Price, Boogety Shoe Blues and Fraser Valley Blues Society