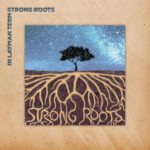 Released November 2018
Review by Cora Price, Boogety Shoe Blues, Fraser Valley Blues Society
If you're looking for some new style blues crossed with a bit of jazz funk, by a young up-and-coming band, do yourself a favour and check out In Layman Terms. This Virginia band features front woman, Logan Layman on bass (including cigar box bass) and vocals, brother Cole on lead guitarist & vocals, Hamed Barbarji on trumpet & flugelhorn, percussion & vocals, Nick Davidson on drums, percussion & vocals.
You'll find yourself grooving to the beat, that this CD and band has to offer. Highly upbeat, rewardingly wonderful to listen to, the band offers a breath of fresh air when it comes to their lyrics and sound. Like a kiss of sunshine, they are candy to the ears. An impressive composition of songs and delivery of the sultry blues style they offer. Gritty, fusion cross overs, fill the CD.
Make Me Yours is my favorite due to the Flugelhorn. Hamed delivers an incredibly different sound with his strong brass playing. Not many bands mix it up to this degree and offer a professional sound that makes you want to explore who they are and what that instrument is! The lyrics are catchy, the instrumentation solid.
Ain't Gonna Fake It No More, slows it down with a traditional blues song with soft trumpet accompaniment and solid guitar and drum.
The only cover is Cut 6, Fever. Great job of putting their own twist to an old favorite!
Logan gives us a wonderful bass solo at the start of the 8th track – Way Too Far. The band comes in, and her vocals get you rocking. Cole's guitar in this cut is also exceptional, along with Hamed's trumpet highlights.
This is their 3rd CD and I can't wait for the next one! This band is now one of my favs – what they are playing is on the edge, terrific blues with a wee bit of uniqueness thrown in for good measure. They are superb composers and their professionalism in their delivery is certainly apparent. They have competed six times in the IBC's, twice as a youth act and 4 times as a band.
To hear the CD for yourself, and to purchase, check out their website: www.3inlaymanterms.com or on Facebook: https://www.facebook.com/3InLaymanTerms/
I'd love to see them in concert – for the most part they are on stage in Virginia, but I'm hoping they will get the chance to tour soon and maybe come to Western Canada.