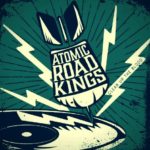 Atomic Road Kings – Clean Up the Blood CD Review
Release Date: Feb. 21, 2019
Reviewed by Cora Price, Boogety Shoe Blues & Fraser Valley Blues Society
This live recorded vintage style CD, includes using recording equipment from 1940 – 1950, such as microphones and was also recorded in analog. The CD was mixed, released, recorded and mastered at Bigtone Records by Jon Atkinson
Featuring Orange County harmonica man Eric "Jailhouse" Von Herzen (Walter Trout) and Big Jon Atkinson (Kim Wilson) on vocals, lead guitar and rhythm guitar, Bill Stuve on upright or electric bass, Malachi Johnson on drums. Robert Walsh is also featured on Track 11 on piano.
Featuring classic riffs and tempos, the CD takes you back to a time when honky tonks, speak easies and drinking hang outs were the rage. The sound is crisp, clean and enticing. Close your eyes and enjoy, you will be taken on a ride where you'll sway and stomp. The classic blues we've come to love is presented in a fashion reminiscent of times gone bye. There are 10 originals, written by Jon Atkinson and only two covers – Candy Man & Two Sided Story.
Atomic Road Kings is true Chicago Blues. From the first cut to the last, you'll be immersed in the tried and true style of the greats who made the road for those who followed.
A few of the tracks that took my fancy – #1 – I've Got Time, a story and lament about coming from a family that may not be quite what you would like, but knowing that it could have been much worse. The combo of harmonica, guitar, bass & drum beat, produces a sound that catches you and shoots you forward and back….. makes you realize the artistry this band is achieving, the sound that makes it feel like they are back in the 40's or 50's analog era. In reality, they are recording this today, in a studio utilizing the equipment of yesterday and they achieve it with great clarity.
The title track, Clean Up the Blood, has a haunting rhythm and lyrics that shake you to the core. The bass licks are distinct, as is the guitar work. The vocals are a caress, you have to listen carefully for the full message, but the words are worthy of that attention.
Love the opening harmonica in Candy Man. A great song to follow Clean Up the Blood.
Ain't For Me is a dancing song with some fabulous guitar. Back Down South, is one of my favorites from this CD, where the stand up bass offers solid direction for the band to follow. Love the growl of the vocals, the highs and lows "Big" Jon takes us on. Again, very good harmonica by Eric Von Herzen, throughout this song.
This a CD you can put on, relax, talk, dance, revel in the fact that music heals us in mind, body and soul. You can check out further cuts or purchase your own copy from:
https://www.facebook.com/AtomicRoadKings/ or
https://bigtonerecords.com/bigtone-releases/
Thanks Frank Roszak Music Promotions for sending the music my way.