Downchild, 50th Anniversary Live CD
Released Aug. 14, 2020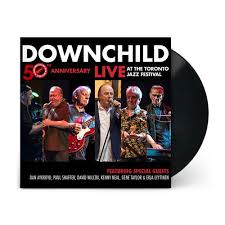 By Cora Price, Fraser Valley Blues Society
To call Downchild the iconic Canadian blues band is on par with saying gravy goes with fries. For 50 years we've been enjoying the dancing tunes Downchild has become famous for, worldwide.
Their new CD, 50th Anniversary Live, recorded in June 2019 at the Toronto Jazz Festival, opens with Can You Hear the Music, a jump-blues composition. This cut was the signature song on their CD release in 2013 and won a Juno award in 2014.
Featuring twelve songs, this CD includes collaborations with many favorite blues artists: David Wilcox, Gene Taylor, Paul Shaffer, Kenny Neal, Erja Lyytinen (from Finland). Dan Aykroyd MCs and plays on 3 cuts. Hearing music from the Blues Brothers movie, brings back wonderful memories for me. Did you sit through the credits for the Blues Brothers movie? The music heard as the credits rolled included many of Downchild's repertoire.  
Mississippi Woman, Mississauga Man found in the #7 spot, is a song that crosses over, melding Zydeco with contemporary blues. Erja Lyytinen adds the feminine voice and is excellent! This song couldn't get anymore Canadian in it's lyrics.
Flip, Flop & Fly is gratefully included on this CD. It holds a special place in my heart, it is loved by many, and always packs the dance floor! It features Dan Aykroyd, Paul Shaffer, David Wilcox, Kenny Neal & Erja Lyytinen. You can hear how much fun each musician is having, in this rendition. Beautifully done!
There are many all time favorites . This live recording offers a mix and compositions that are professionally done. It is difficult to distinguish between a studio recording and this live recording. Downchild once again provides fans with a release that is true blue, crisp, clean and magnificent.
Go support our Canadian musicians, grab your own copy of this release from their website: https://downchild.com/store.
Visit their Facebook page and show them some love and let them know you saw this review: http://facebook.com/DownchildBluesBand