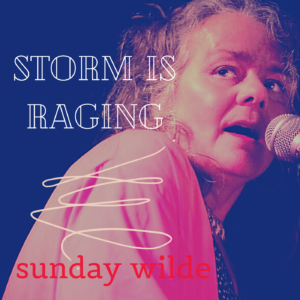 Sunday Wilde
Storm is Raging & Shake That Man
Video & Single Releases
Anticipation is building for fans as they await the next full release for Sunday Wilde music. In the meantime, she's been busy with some wonderful individual projects that act as teasers. Sunday's been busy! Sating her own artistic needs by composing some new material, playing her piano and collaborating with other artists and music related entities what I've seen of late has me waiting excitedly for what's to come in the near future. If you like honky tonk blues, you'll love what Sunday slings.
On December 7, 2020 Sunday released the single Storm is Raging. This song touches deep as it is an analogy about the desolation of homelessness, addiction and worry. We can all relate to how turbulent it can feel when dealing with the unknown or feeling the pain of watching a loved one traverse the storm's path.
The piece was commissioned by the Superior Theatre Festival to celebrate the 50th Anniversary of Thunder Bay and includes a video featuring dancers Ella Currie and Lainey Exell on the pier of the Thunder Bay waterfront. A beautiful moving video.
Accompanying Sunday, is Dobro and guitarist Ari Lahdekorpi, Mike Carson on the upright bass and the production was mixed by Jean-Paul De Roover of Blueprints Audio.
Watch the Video: https://youtu.be/PPmqDInKmwc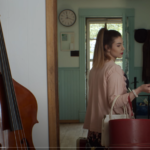 Shake That Man
On Saturday, January 23, 2021, a new video was released – Shake That Man.
The video begins with a young woman packing and leaving with her suitcase and hat box in hand, whilst her "man" sits at the kitchen table smoking cigars and drinking Jeremiah Weed, cards and cigarettes prominently on the table. (Displayed in the corner, a stand-up bass, which is likely the late Reno Jack's prized possession. Loved seeing this beauty, which produced so much wonderful music!)
Though this poor gal has left, she just can't seem to shake this man. He's everywhere she looks. The video closes with a picnic basket gift sitting at the door, she takes the wine and closes the lid. End of story.
The video features Sunday playing her piano throughout the song, a lovely addition to the story line. Musicians featured: Sunday Wilde, Mike Carson, Michael McInnis and Tony Biscardi
Watch this Video:https://youtu.be/N6qx-sR68Dg
Puppeteer: Ira Johnson; Actress: Ally Lerino
This song is included on the new CD: Boreal Ultimate Music Society's eleven
Purchase from Amazon: https://www.amazon.com/Shake-That-Man/dp/B08Q7RGK8J
Explore and Purchase Sunday Wilde music
https://www.amazon.com/Shake-That-Man/dp/B08Q7RGK8J
http://www.sundaywilde.com/
Please support musicians More then ever, they need our support. I cannot imagine a world without music! Purchase, share, comment. Be kind.