Friday Jam Sessions
To resume October 8, 2021
The Fraser Valley Blues Society holds monthly Friday evening Jam sessions. Doors open @ 7:00, the jamming starts at 7:30. Our location: Eagles Hall, 33868 Essendene Ave., Abbotsford (beside Paliotti's).  Host is James Thorhaug & Friends.  Note: Cash Only Venue. We will be implementing a minimum $5 cover charge to help off-set the costs of holding the jam.
Join us for live music, good times, dancing and to get your groove on. Hosting band will play first set then musicians who have signed up will have an opportunity to play with the band (sign up before or at the event) or other musicians who share common song choices.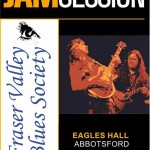 Provided is a drum kit, amps, monitors, mics and PA, most times a keyboard or organ. You bring your own instrument (except drums of course – but do bring your own sticks).
Audience is welcome and necessary, bring friends and family too.  The large wooden dance floor is generally packed and there for your dancing pleasure.
Shouldn't need rules but guidelines are helpful. Here's some great ones:
http://www.superiormusic.com/page129.htm
Be sure to read pages 2 (vocalists) & page 3 (guitars).
Disclaimer: In no way do we condone or support any of the points this person is making. It is solely for information purposes only, to guide you on how to participate in a musical jam session.
Jam Sessions for the 2021-22 season (2nd Friday unless there's a holiday):
October 8
November 12
December 10
January 14
February 11
March 11
April 8
May 13
June 10
No Jam in July & August (Festival Time!)
First round of Jamming with host band & Art P, our sound guy, Sept. 18, 2015
Round 5 (I think) featuring Andi on vocals, Don on guitar, Kathryn on keys, Doug on Sax & Jon on Drums (I hope)
Last set played on Sept. 18, 2015 Jam
Listen to the January 2015 session (partial).

Audio of 2 sets of the Jan. 2015 Jam Session

Short Interview @ the Jam Session by Go! Fraser Valley (Shaw)