Blues Bands & Musicians
The Musicians and bands are what keeps the music flowing. We want to support them as much as possible because without them, well, there just wouldn't be any music! Go to their pages, buy their music, Like their pages on Facebook, do what you can to offer support. Bands, if you would like a listing on our website, how about considering getting a Band Membership ($20 per year) to help us keep this website and the Society going.
---
James Thorhaug Band
James Thorhaug (guitar),  Kathryn Baird (keys / vocals), Kerry Paulicelli (drums) & Paul Silva (bass) create some great music together. The band plays a wide range of music from jazz, classic rock and blues.
We've been honoured to have the James Thorhaug Band host our monthly Jam Sessions at the Eagles Hall since 2014.  James does a great job of getting everyone up, matching musicians together to create some great sounds and keeping the show rolling.
---
This Legendary Blues and Boogie Woogie piano master Kenny "Blues Boss" Wayne was inducted on August 9, 2017 into the Boogie Woogie Piano Hall of Fame at the Arches Piano Stage while performing at the Cincy Blues Festival in Cincinnati, Ohio.   He is hailed by LIVING BLUES magazine as "an artist bringing the piano back to the front ranks of contemporary Blues". This 2006 Juno Award winner and a multi Maple Blues Award winner is at the forefront of modern day blues piano practitioners. If you've seen him live, you know as the sharp dressed piano man and his shows always please! Visit his website: https://kennybluesboss.com
---
Super Wicked Awesome
Super Wicked Awesome is the string bending, electric alter ego of Kelowna's popular Celtic folk rockers, The Malarkeys. Featuring Karl Hourigan on guitar and vocals, Gail Hourigan on bass and vocals, and Jay Dallamore on drums, the group delivers classic electric blues and rock from Freddie King, Albert King, Elmore James, Memphis Minnie and more. Their own original songs grow from roots laid down by everyone from BB King to Eric Clapton, Muddy Waters to Paul Rodgers, Bonnie Raitt to Maria Muldaur, and well, you get the idea. 
Explore their music here:  Super Wicked Awesome electric blues trio
---
The Jason Lane Band is a blues band with solid roots in rock and pop music. The band embodies a traditional blues sound that incorporates the catchy melodies of pop and the intense guitar of rock. The result is a polished, smooth and downright groovy sound that is both contemporary and modern.  Based in Vancouver the band was formed in 2019 with founding members Jason Lane, Chantal Sayers and Alex J Ritchie. The rhythm section has Rob Cooper on drums and Irv Loewen on bass.
Facebook: https://www.facebook.com/jasonlaneband/;
Youtube: https://www.youtube.com/channel/UC4eOBv7Puy9YlQVmYmOk_Yg
---
Blues and R&B singer, Andi "Miss Behave" Martyn, based out Vancouver backed up by Don Jones on Guitar, Rob Marr on the bass, Brian McGibney on Keys, JT Platt on Sax and Ted May on Drums.
---
The Ocean Park Wailers is a six piece group whose focus is on Blues, Country Rock, Roots, R & B and Originals. The core of the group has been together since 2010. The Wailers have a dynamic style with the blazing guitar work of Kevin Irwin, a solid rhythm section with Paul Sorbara on drums, Russ Froese on bass and twin keyboard players Bill Brooks and Jim Widdifield. To top it off they have a great vocal mix with new lead singer Mike Sheeshka as well as Kevin and Russ.
---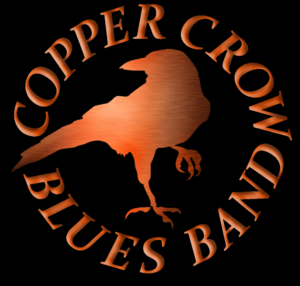 A Chicago style blues band, Copper Crow also infuses Classic Rock / Texas Blues to bring you a style and energy that will take you back to the heyday of the blues the way it was played in juke joints across the USA.
Combining Martin Shaw's lead vocals with the fantastic rhythm of Peter Bryant on drums and Mike Ellerbeck on bass, Oliver Krajci on lead guitar, Barry Warne on keyboard/piano and Robb Douglas on blues harmonica, the band generates on-stage energy with music that will satisfy those who love to dance as well as those who just love to listen to the blues.