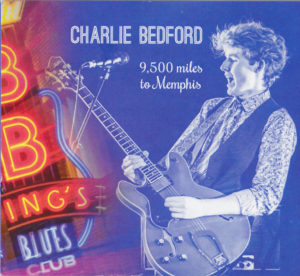 It's my great pleasure to review this CD for a young up-and-coming musician from the land downunder, Charlie Bedford. Everyone who meets this young man is impressed with his talent, demeanour and personality. Seeing him on stage is to be drawn into someone who is young at heart but old in soul. Frankly, I'm blown away by who he is and what he does.
My first introduction to Charlie was last year during the International Blues Challenge in Memphis. Not through actually meeting him either, but rather through the posts on Facebook. All who met him, made comment about the experience. He gave out koala bears, Australian flags and his personal cheers to all he came in contact with. I reached out to him and asked if he had a few tunes he could send my way for the radio show. Once I heard him, I knew I had to meet him and follow where he was going in the future. You know when you just know that someone is meant for great things and influences?
This year Charlie was back in Memphis as a youth act representative for the Melbourne Blues Appreciation Society. My husband Bill and I, had the great pleasure of bumping into Charlie on our first night in Memphis for the January 2019 IBCs. Accompanying him, was his father, Gary, who has embodied a great love of life and music. The encouragement, support and love we saw shared between these two was nothing short of wonderful and heart lightening. Charlies gifted me with his new CD, a koala bear and an Australian flag. I squealed with delight!
So, about the CD – Charlies is a fabulous songwriter but for this debut album he chose some great covers by his role models BB King, Albert Collins, Albert King, Buddy Guy, Tony Joe White & Louis Jordan. This CD is just Charlie doing his guitar and vocals. Clean, beautiful, perfect for showcasing who he is as a musician. Brain Baker at the Bakery, thanks for getting this done for Charlie!
Though young, Charlie's vocal ranges are outstanding. The first 4 cuts feature his higher ranges and my fav is How Blue Can You Get (cut 1). In As the Crow Flies (cut 5) we get to hear his lower register. Charlie's vocals are super easy to listen to and enjoy. His guitar playing is also stellar!  We watched as the room at the Blues Hall watched mesmerized by his stage show and sound. You  couldn't move for all the bodies that were there to see him perform.
Back to the CD – Two cuts, which we also got to hear live, Early in the Morning & Let the Good Times Roll – work great for audience participation. In the recording, you get a hilarious "Get out of here" inserted. Listen closely or you'll miss it.
So, if you truly want to support new blues artists coming up through the ranks, go and get Charlie's CD – 9,500 miles to Memphis, like his page and follow where's playing – he will be coming to America again and I truly hope we can have him in Abbotsford for a show!  Canada, you will love this artist!
https://www.facebook.com/Charlie.Bedford.6
Review by Cora Price, Boogety Shoe Blues & Fraser Valley Blues Society
February 2019